My friend and fellow writer, Katie Davis (She of the many funny books for kids.) has a new book out for those of us who write for kids: HOW TO PROMOTE YOUR CHILDREN'S BOOK.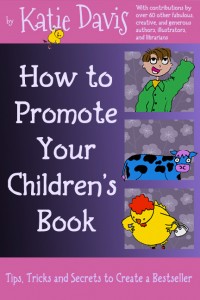 With this guide and her trademark sense of humor Katie, who is both an author and an illustrator, coaches even the shyest and most promotion-reluctant writer with unique (and common) ways to sell more copies. Katie's nine children's books have sold over 250,000 copies so she obviously has learned a thing — or maybe 82 — in the process, and she shares it with us in her newest ebook.
Katie has graciously agreed to giving away a free copy of the PDF version of her book and to entertain a number of questions from me. Her thoughtful and energetic answers should make all of us who are media shy wake-up and take another think about promotion. Wait . . . maybe I could do that. And that . . . and maybe even that . . .
I learned so much from Katie's book! QR codes, teachertube, book birthdays . . . WOW! Who knew? Enjoy this interview with Katie, and then get to work promoting. (p.s.: Scroll down and you'll find the details for winning her book.)
Shutta
1.) Katie, I've been astonished by your energy, and how much you get accomplished. How and when do you draw, or write?
I love to watch the horrified look people get when I tell them about my friend who makes his partner take his ethernet cable to work. He can't get online and get distracted! I couldn't do that but I could've used it last year while I was promoting my new picture book, Little Chicken's Big Day. But this year I've been delineating my time more. It goes something like this:
Morning coffee and social media type stuff

get some exercise

turn everything off and write

lunch

art and other things I need to do that doesn't involved my writing brain
2.) I thought I knew a great deal about the PR opportunities available to me as a writer, and then along comes your book . . . and I'm blown away by possibilities. For the frantic writer with limited time to promote, what top three promotional outlets would you say were really vital for any author to utilize?
The most important thing is that you do it. If I say Twitter is the most important but you hate Twitter, then my advice is worthless! So I'd say find what works for you and be consistent, be transparent, be generous, and be true to who you are. That is how you will connect with people and develop relationships, and to me, that is the basis of successful promotion.
3.) QR codes. Wow! I hadn't considered them at all. But what a wonderful way to lead people to information about a book, a video, teacher materials, etc. What's been your favorite way to use them?
There are so many creative ways to use them, but it would have to come down to practicality. The most useable, therefore my favorite so far is to include a code on your card that leads to a book trailer. It's fun and will say something about your book that your card alone cannot.
4.) Have you seen any traditional promotional outlets that have been overused? I do know that book store signings—even for well-known authors–are not always successful unless they are tied into something else, like educator night, etc. But I almost feel like we need to keep doing them to help booksellers. Any thoughts?
Though I am always up for supporting booksellers, I kind of want to turn this around and tell you what has been under used! And my answer to that? Video. (Actually, booksellers can utilize this, too. They can post book trailers on the book's page on their site, and also have a dedicated video page.)
Video is great for SEO (search engine optimization)

YouTube is the #2 search engine (Owned by Google, so do the math!)

You can make quick and helpful clips while entertaining your audience as well as getting the word out about you

You can practice till you feel comfortable

The camera work isn't as important as the audio quality so get a good mic

Make. Them. Short. * (See note below.)

Make. Them. Short.

Did I mention you should not make them long? Here is an example of one of my video FAQs:
And here is a funny one of me announcing the winner of my sweepstakes last year.
5.) And now the really important question (I always ask at least one silly question!): Suppose you were abducted by aliens. And before they whisked you off to their planet, you were allowed to bring one thing with you—but it has to fit into your pocket. What would it be?
At first I thought, I'll bring a map so I'll be able to get back home! Then I thought, I'll bring a translation device so I can talk to them! Then I thought, No! I know! I'll bring books to read because it's probably a really long flight.And then I realized all I need is my iPhone, and since it's attached to my hand, I won't even need to put it in my pocket!
(*Usually I try to keep my videos at tops, two minutes. If I'm making a tutorial, however, it can be much longer. Also, for this tour I created a video for Chris Cheng's Creative Spaces segment that was bit longer than my usual.)
Keep up with Katie's blog tour! Here are the sites where she has been (if you want to hear a different take on her book), and where she will be appearing in the next few weeks. Enjoy them all!
Blog Tour schedule:
Feb 1 – E is for Book
Feb 2 – Banana Peel Thursday
Feb 3 – Creative Spaces
Feb 6 – DearEditor.com
Feb 7 – Writing With a Broken Tusk
Feb 8 – Shutta Crum
Feb 9 – McBookWords
Feb 10 – Kerem Erkan
Feb 16 –Elizabeth O. Dulemba
Feb 17 – Fiction Notes
March 1 – 12×12 in 2012
March 2 – Christine Fonseca, Author
Now! What you've been waiting for . . . how to get your name into the drawing for a free downloadable pdf copy!

To be eligible to win a free PDF copy of HOW TO PROMOTE YOUR CHILDREN'S BOOKS by the incredible Katie Davis you just need to comment on this blog post by the end of the month – – midnight, Feb. 29, 2012. (If you have time, tell us a little about any technique that you've used to create some successful buzz for your book.) Then I'll draw a name from those entered, and Katie will send you the code to download the book free.
(Your name will only be entered once during the month.) But wait!!

There's more (as they say ) . . . if you go up to the top right hand side of this page and put in your email address to subscribe to updates of this blog your name will be entered two more times into the drawing. YUP! That's a total of three chances during the month to win this wonderful resource.
Comment by clicking here, or on the comment tag below.