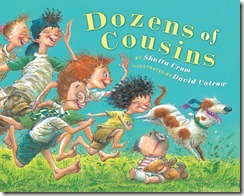 She's a healthy  8  1/4  X  10  1/4 inches and weighs in at 11 ounces. 
DOZENS OF COUSINS came out today. It is illustrated by the wildly talented David Catrow and published by Clarion Books. (Houghton Mifflin Harcourt.)
And here's the newly written teacher's guide: CCSS Annotated Guide for Dozens of Cousins (2).pdf  It was designed and written by Debbie Gonzales, Montessori teacher and curriculum specialist extraordinaire!

In it you'll find all sorts of hands-on activities as well as fun discussion questions.
And—just in case you missed the earlier posting of it—here's the book trailer. Enjoy!!
Preview DOZENS OF COUSINS here!
Shutta