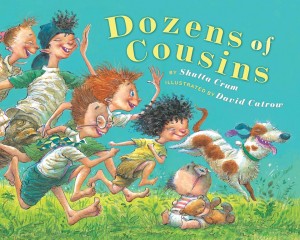 I'm head over heels in love with the new CCSS annotated teacher/reader guide that Debbie Gonzales did for DOZENS OF COUSINS (Clarion). At 23 pages (Almost as long as the book!) it is chock full of activities, questions, and hands-on projects. Also included is a matrix that matches the book to the CCSS for teachers.
In addition to being a wonderful writer, Debbie Gonzales was a teacher, a school administrator, an educational consultant, a curriculum designer, a former adjunct professor, and a writing workshop instructor. She has even taught PBS's Barney kids in a one-room off-set Montessori classroom. She earned her MFA from the Vermont College of Fine Arts in Writing for Children and Young Adults and was a Montessori teacher and a curriculum coordinator in Texas. Her forte is in finding educational and fun, supplemental activities to expand the use of books in the classroom.
DOZENS OF COUSINS deals with grandparents, aunts and uncles, and cousins, as well as brothers and sisters–all at a family reunion. So Debbie has come up with age-appropriate activities that deal with genealogy for my latest book. My editor at Clarion (HMH) was also thrilled by the guide she created for us.
When Debbie gets a book to work with–stand back! The ideas are gonna come thundering out! Don't say I didn't warn you.
Ciao!
Shutta