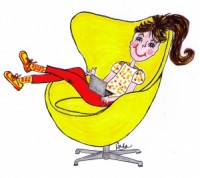 Two friends have started a website for teens and tweens on decorating one's room. It's called How To with Lindalu and Cheryl, Too. There are lots of fun ideas there for decorating inexpensively, but with sizzle!
What's this got to do with books?  Lindalu and Cheryl are compiling a book that will accompany the site, and are currently presenting (with flair and color) to library audiences. (Hey, you program planners who are looking for something unique–this could be it!)
Drop by the site and give them a "like," if you're so inclined. Even better, contact them about a program. I can't wait for the book to come out, too.
Enjoy!
Shutta