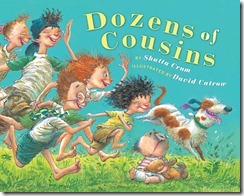 Dozens of Cousins (Published by Clarion HMH, and illustrated by the talented David Catrow.) is slated to be released July 1, but the first review is in already—and it's a star. YAY!
Publisher's Weekly says:  "An annual family reunion brings together a passel of carefree cousins in this joyful pairing of Crum's (Mine!) comically heroic verse with Catrow's (Have Fun, Molly Lou Mellon) equally rollicking pictures . . .  A triumphant ode to family in all of its messy, quirky glory."  See the full review here: http://publishersweekly.com/978-0-618-15874-4 .
In celebration we've created a book trailer for those of you who want a closer peek. Enjoy!
COMING! July 2013 . . . published by Clarion.