Just a short update on interviews, sites, books and links I've enjoyed over the last couple of weeks. Hope you'll find something here, as well, to give you a laugh, to make you pause or furrow your brow.  Enjoy!
Interview with a wonderful children's author Laurie Calkhoven:  Presidents, Boys of Wartime series, and writing at the "Teacher to Teacher" Blog.
Wonderful review of Dr. Fred Bortz' latest book for kids: MELTDOWN! The Nuclear Diaster in Japan and Our Energy Future. (My teacher friends in Japan–listen up!) It's all at the Shelf-employed Blogspot.
A fun NPR piece on the future of picture books with Dan Poynter and Roxie Munro (Feb. 21, 2012). Podcast and transcript–here.
Finally . . . an exciting giveaway at Sara Tool miller's site. Literature & Latte has offered 3 free downloads of their new Scrivener software for PCs. Sara will choose 3 winners. But the deadline is tomorrow–8pm on Feb. 22nd!!!  So go there soon and leave a comment to enter. (Remember–this is only for their PC version, not their MAC version.) I did!
And the 2011 CYBIL winners have been announced!!!  Congrats to all the winners.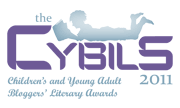 Happy Reading & Writing!
Shutta