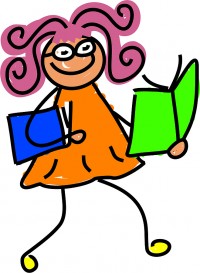 Shutta's library career was long and varied. It entailed being a youth librarian for almost 24 years and a branch manager for almost fifteen. In addition, she was a library director for two years. At one point her youth specialty was as an Outreach Librarian. This meant she did traveling storytimes—many of them! Sometimes as many as three or four a day.
In 2002 she was awarded the Michigan Library Association's, Children's Services Division, Award of Merit as the State's youth librarian of the year!
She is happy to do a variety of public and in-service programs at a library—her home away from home. Some suggestions are below. However, she is certainly open to other ideas, or topics, as well.
These can include:
I. Public Programs:
For preschool and families:
Storytime (25-30 minutes) Shutta will tell stories geared for 4 year olds and up. Storytimes may include the author's books as well as the sharing of illustrations and materials of forthcoming titles.
For 5 year-olds and older, and families:
Making Stories, Making Books (30-60 minutes) Shutta will do some traditional storytelling as well as share her own books. She will also discuss the making of her books, including where she gets her ideas and working with an illustrator.Includes a question and answer session.
For families, older children, young adults, and adults:
Meet the Author.(45-90 minutes) Shutta will discuss writing, revising, submitting, working with an editor and illustrator, where she gets her ideas and what makes a successful story, which may include elements of plot structure and literary technique. Includes a question and answer session.
For young adults and adults:
Out of Slushville and On Your Way!(45 minutes to 2 hours) Shutta will discuss the "slush pile"; genres; submitting; rejection; working with editors and illustrators; maintaining business relationships; networking; and helpful references and resources. *NOTE: This is her most popular program and generally draws from 30 to 100 people. Bibliography and handouts included.
Writing Workshops (90 minutes to 4 hours) Shutta has given a variety of writing workshops at libraries on such themes as writing poetry, plotting, and working with agents as part of festivals or community programs. (References are available from other librarians, upon request.)
Mother & Daughter Book Discussions (or Father & Son). Shutta has visited with library book groups that were reading one of her novels.
II. In-service Programs:
Shutta has given a number of in-service programs on staff days at libraries and co-op centers around Michigan. Themes and topics vary. However she is able to speak with insight, and humor, about how the world of librarians and libraries intersect with the publishing world. As a luncheon speaker she has a humorous take on publishing she presents called "The Good, The Bad, and the Truly Ugly." She has also done staff programs and Friends of the Library dinner talks on the surprising things she's learned about publishing called "Ten Things I've Learned About Trade Publishing," and another on what authors are up against these days. Please feel free to contact her with other ideas for talks if your library would like a staff-only presentation.