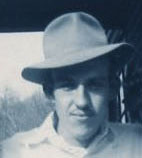 A poem about traveling to Kentucky for Dad's funeral.  Miss him!
December is leafless—
and the ridges south of the river reveal scars.
The snow resting on their flanks is dry and airy.
It slides off bony-shouldered outcroppings
like a thin hospital gown, and gathers in the folds
of the mountains.
We are following the rail lines south.
The rail lines follow the river.
The river follows the curve of mountains.
The mountains follow the corded veins of coal.
We drive into the coming night
following Father's coffin home.
Lights flicker on in the coalfields.
Along the railroad track cracked coal,
as sharp as a man's dying, await loading.
I trace these mountains against my heart.
They are old and crook-backed,
and as knotted with sorrow as my father's hands.
I push my knuckles—hard—into my chest.
This night is overwhelmed by hush;
the faded hospital gown slipping,
the breath falling . . . and falling away.
Shutta