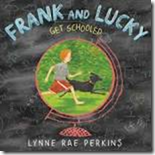 One of my favorite reads of the year (maybe of all time) is Frank and Lucky Get Schooled by Newbery Medalist, Lynne Rae Perkins. (Greenwillow, 2016) Now, it is making many best of the year lists. And it richly deserves all the hoopla.
To get to specifics, this is a picture book for older picture book readers, grades 2 through 4. In it, Frank and his roguish rescue dog, Lucky, learn about various sciences, math, reading, history, art, geography, map-making, and foreign languages. Even the Fibonacci spiral (golden spiral) makes an appearance! Frank and Lucky do this learning through their everyday, loving interactions. It's a schooling that is both natural and hilarious, as we get to know Lucky's thoughts on things, like trying to learn the language of ducks. It's full of laugh out loud humor, as well as real heart.
Frank and Lucky Get Schooled is such a wonderful book! After reading it, there's a sense that the book offered up a promise and delivered upon it 100%+. When I hold it, I feel like I'm holding a little gem in my hands.
It is a book that should be in every elementary classroom, and in every home that ever loved a dog. Get it on your wish lists now! (Below you'll find a number of sites with reviews.)
Of course, I needed to talk with my friend Lynne Rae about writing the book. Below is a synopsis of that conversation. Enjoy!
###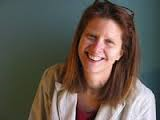 S.C.: First, the age-old question for writers who are also illustrators—which inspiration came first? Pictures in your head? Or a phrase? Or a general idea about a boy and a dog learning together?
LR.P.: For quite a while I'd had an idea about writing a book for preschoolers who might have an older sibling who was in school. I wanted the book to include various studies that an older brother or sister might be learning about. But that project went by the wayside. However, we actually had a dog named Lucky. And as he got older he was barely ambulatory, often taking a break and just sitting when we went out. But I remembered how much of a rogue he'd been when he was young. He once ran after our car for 7 miles before getting inside! And then one day when my son Frank was home the title came to me: Frank and Lucky Get Schooled.
S.C.: Where did you go from there? Did you start writing, or doodling?
LR.P.: I did have a list of subject areas with that first idea of the preschool book that didn't happen. But usually what I did was to take a subject and just sit with it for a time. I let the ideas go in and out. When you put a problem in front of you, you also work on it in the background while doing other things. And you see things through that filter.
S.C.: I noticed that music is the only major field untouched. A reason for that?
LR.P.: I saw this book as a kind of companion book to SNOW MUSIC. (Greenwillow, 2003) And as this one is pretty complicated already, music was left out.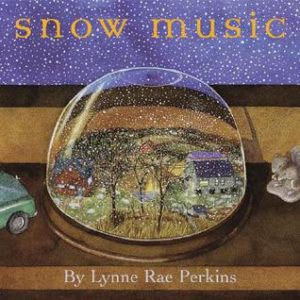 S.C.: I love how the small vignettes and thought bubbles show the back story, and what will happen in the future (Lucky's plans.) I'm wondering about working with Sylvie Le Floc'h, your art director, and Virginia Duncan, your editor, at Greenwillow. There's quite a lot of art here.
LR.P.: I'm really bad at making dummies [mock-ups of the pages]. A lot happens while I'm in the process of working. I never seemed to have a definitive dummy. So if my editor said they were having trouble getting everything on the page, we worked together to solve the problem. It was very collaborative. One good thing, though, was that I'd sent Virginia a complete manuscript ahead of time, so we knew where we were going.
S.C.: By the way, I love the first line of Frank and Lucky Get Schooled: "On a day Frank could not win for losing, he got Lucky." Sometimes a line will come to me, and it will be the impetus for the whole story. Sometimes that line changes, sometimes it doesn't. Was this always your opener?
LR.P.: Years ago, when we got our dog Lucky from the animal shelter the kids were riding in the back seat. One, or both of them, said something like, "He's lucky we got him, and we're lucky." So we named him Lucky. And I knew for this story I wanted ". . . something, something, he got lucky." My mom always used to say, "can't win for losing." I'm not sure if that's a common saying everywhere, but it worked for that line.
S.C.: I also love the heart and the humor here. Heart is something, I think a writer either has, or doesn't have—it's the way we approach life and everything we do. But humor . . . that's a bit different. Writers can learn to be humorous. (Perhaps people can learn to have "heart," too. But that's for another discussion.) Did you have some funny situations in mind before you wrote? Or did they come to you while "in process."
LR.P: I'll tell you a funny story about Lucky. Even though he was a Lab, for the first five years of his life he was afraid of the water. We live on Lake Michigan and we'd take him to the lake almost every day. But he only put his paw in. He couldn't seem to understand why water wouldn't hold him up. And then one day while we were living in a cottage on the water, some ducks were floating by and Lucky dove in to swim out to them. I was afraid. He'd never swam a day in his life! But he was out there for hours. He was fine. He had this thing for ducks that had to do with being a real dog.
S.C.: I adore the ducks in this book, so funny! Now, thinking about heart, your novels also swell with that. It seems to me that part of the process of getting that love of life into one's writing is through careful observation—not always of major happenings, but of many of the smaller things. And the smaller things add up . . . So tell me a little about how you observe the world. Knowing you, I think you're an introvert. But I also think you have your eyes wide open. I know this is a vague question. But I'm trying to get at how an artist might see the world differently than a writer. Or differently than someone who doesn't work in a creative field.
LR.P.: I always carry a piece of paper with me. I need to write down things before I forget them. And I write in my journal every day. It may just be what I'm doing, or something else minor. But I keep paper with me.
But also, part of this process is how I begin each day. I start by reading poems. I do not look at my phone until the afternoon. Checking the phone doesn't get me off to the right creative start. Instead, I have several anthologies I like to read from. Right now it's Garrison Keeler's GOOD POEMS, RISKING EVERYTHING: 110 Poems of Love and Revelation by Roger Housden and Naomi Shihab Nye's WHAT HAVE YOU LOST? Which is an amazing book!
S.C.: Thank you, Lynne Rae. It's been wonderful to talk about this great new book of yours, FRANK AND LUCKY GET SCHOOLED.
LR.P: You're welcome.
NOTE: Lynne Rae's website is at: https://lynnerae.com
REVIEWS:  Kirkus Reviews