Here you will find some postings (old and new) of interviews I conducted with other authors.  Enjoy!
1. Eric Rohmann, Oct. 2011
When I recently read Caldecott winner Eric Rohmann's new book, BONE DOG (Roaring Brook Press, 2011),  I was blown away by it! It is the perfect pairing of two stories:  a boy's loss of his beloved pet, and a Halloween adventure.  (Not a combination that I would have thought of!)  I contacted Eric and asked if he would mind answering a couple of questions for me to post on my blog. Here are his answers. Enjoy!! (And do visit  Eric's site at: http://www.ericrohmann.com/pages/books/bk_bone-dog.html .)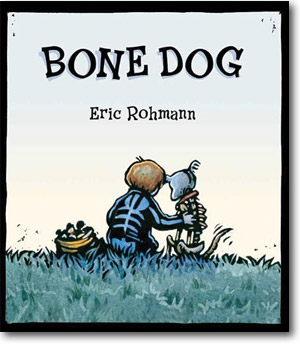 1.  I am fascinated by how you managed to meld the death of a pet with a Halloween adventure story.  Which came first—your idea about the pet, or for a skeletal Halloween adventure?
Most of my stories begin with a picture. Bone Dog was born of a rough ink drawing of skeletons dancing in the night. There is something inherently goofy about skeletons and I've always delighted in drawing them. From that first image I began to write a romp about a kid on Halloween night. And this is where the creative process begins to get murky– I made more drawings which prompted changes in the story and that initiated more images… you get the idea. When I first considered Ella's death I paused, but in the end realized that to tell the story as something more than a romp– to make the book about how kids react to the loss of something they care about– I needed to stay with the idea of her passing. No one was more surprised than me by what the book eventually became.
2.  I love your artwork—as do many people. Is there a tug of war within you between visual art and writing? Which comes first when you think of a story? Which comes more naturally to you?
I think that answer one also answered question 2 (always a picture first).
I'm 54 years old and have been drawing since I was two. It's hard to make a drawing, but it's always always familiar territory. I may not know what the drawing will look like in the end, but I know how to begin. Then it's a matter of drawing and erasing until you arrive at something you like.
3.  After you won the Caldecott medal in 2003 for MY FRIEND RABBIT, did your life change much?
As you can imagine, suddenly people who had never looked at my books gave them a glance. More kids became aware of the book and started looking at other books I'd made. I spent most of the following year speaking about the book and about my process and even started two other books. I realize that the award gave me a burst of energy. Looking back now, there is no doubt it was career changing. I've always liked what I do for a living so I would have made the books no matter what, but the award allowed me to make the books I wanted to make (with the encouragement and enthusiasm of my editor, of course).
4. (Now the really important question!) Suppose you wake up early in the morning and discover your refrigerator open. Inside is a neatly placed pair of tiny shoes. What do you do?
Get a ladder. Climb into the refrigerator. Retrieve my shoes and ask myself once again why I bought such a huge fridge.   (HAH!  I love how Eric turned this silly question of mine around. An artist's perspective!)
(I'm also reposting this link to a lovely interview with Eric by author Kathie Appelt. See below.)

2. Alex Flinn, June 2009
Alexandra Flinn, AKA Alex Flinn, has a lot going on in her writing life. Her newest book, A KISS IN TIME, is getting great reviews, and her book BEASTLY is being made into a movie starring Vanessa Hudgens, Alex Pettyfer and  Mary Kate Olsen.   How cool is that?
I recently read A KISS IN TIME and found that its fascinating premise nestled within the comforting framework of the Sleeping Beauty fairy tale made for a read that kept me intrigued. The premise is: what would happen if Sleeping Beauty was kissed by her true love 300 years later, and that true love turned out to be a teenager from modern-day Florida? How would their two worlds collide? How would it end? After all, according to the fairy tale they're supposed to marry and live happily ever after.  But Jack's still in high school and not about to be married yet. Now what?

How old were you when you first started seriously writing?
Depends what you mean by "seriously."  I knew I wanted to be a writer when I was five.  I wrote plays for the kids in the neighborhood to perform when I was 9 or 10.  I started writing a diary and trying to write my novel at 12.  I wrote most of a manuscript for a novel (then lost it) at 19.  I started writing with a real eye toward publication, researching the market, etc., at 29.  My first book was accepted when I was 32.
  What age child do you have in your head?
12.
How do you make up names for your characters?
I love names!  It's one of my favorite parts of writing.
Sometimes, the characters just tell me their names, which is what happened with Jack in A Kiss in Time.  Other times, I think about it more.  Like with Talia the Sleeping Beauty of A Kiss in Time, I found that Talia was one of the names given to Sleeping Beauty in old stories.   She has a whole slew of middle names, which I got from a list of royal names and also, from other names for Sleeping Beauty (Aurora and Rose).
I often consider the meaning of the name.  For example, Kyle (the Beast in Beastly) is named Kyle because it means "handsome," and after he becomes a beast, he changes it to Adrian which means dark.  The girl in the story is Linda, which means "pretty."  Kendra, the name of the witch in that story, means magical.
I consider impressions that names give me, and if I know anyone with that name.  Charlie Good in my book, Breaking Point, was named Charlie because I knew someone who looked just like him in middle school, and his name was Charlie, and I knew a boy named Alex Good in high school.  He used to say his name was spelled, "No E, just plain good," which I thought was funny.  I have a book called Baby Name Personality Survey, which tells me what impressions the name gives other people.
I had a really hard time naming my own kids, so it's fun to get to name more people.
What's the earliest childhood memory you can think back to? Does it appear in any of your writing?
I can remember REALLY far back, and I remember a lot.  I remember standing in my crib, biting the sides, waiting for my mother to come in.  But my first vivid memory was from when I was three years old.  I remember my mother coming in and telling me we were going to meet the little boy and girl who had moved in next-door.  I was wearing a white dress with red polka dots.  We went over to their house and sat on their back step.  The boy's name was Peter, and the girl's name was Wendy (No, I did not make this up after watching Peter Pan), and they were two and five respectively.  I never used it in my writing, but I've used other stuff.
Do you wake up in the night with fantastic ideas for books?
Not in the night.  I usually think up story ideas when I'm supposed to be doing something else.  Like, once, I wrote a short story in my head while watching Piglet's Big Movie with my kids.
Why write a take off on a fairy tale?
Initially, because part of the story wasn't fleshed out enough for my liking.  I wanted to know more about the Beast, or it bothered me that Sleeping Beauty just got plunked down in another century.  Now, because kids don't read fairy tales anymore.   They watch the DVD, and if there is no DVD, if Disney hasn't done it, it's dead.  You have no idea how many emails I get, asking who the bear in Beastly was supposed to be.  He's from Snow White and Rose Red, but none of them have heard of that story.  I'm working on a novel now that is all fairy tales that haven't been done by Disney.  Some of them, even I hadn't heard of until I started researching.
What is your favorite fairy tale?
Sleeping Beauty was my favorite as a child.  Now, I sort of like adventure stories like The Brave Little Tailor, Lazy Jack, or The Golden Bird, where the hero has to surmount obstacles to gain the hand of the princess.
What do you have hidden in a dresser drawer? (We won't tell, will we, everyone?)
Nothing.  It's not that I'm so organized (I'm not), or that I don't have hiding places (I do).  That's just not one of them.  And I'm not going to tell you my hiding places because my kids are old enough to go online.
What do your favorite jammies look like?
Grey short gown with an embroidered pink kitty-cat on it that says, "It's all about me-ow."
Who would you rather have a date with (given you weren't married), Strider from THE LORD OF THE RINGS, Dr. Watson, Wolverine, or Simon Cowell? Why?
Simon.  I was a music major in college, and I pretty much agree with everything he says (except when he ridicules the disabled, but I would try to cure him of that).
Have you ever been abducted by aliens? If so, what color were their jammies? And did they tell you the titles of any of their favorite books?
Well, if they abducted me, they must like my books, right?  And they weren't wearing jammies.  In fact, they all looked exactly like Simon Cowell and were wearing black Tee-shirts and jeans.
Will you name a character in your next book after me?
Um, maybe.  Do you want me to?  How many other people have you asked to do this?
Thanks, Alex!
(Who knows, maybe we'll have a spate of characters named Shutta soon.)
Ciao!
Shutta
* Many of Alex Flinn's books have made the American Library Association's Best Books for Young Adults lists, as well as Quick Picks for Reluctant Young Adult Readers. They have also received such teen-selected honors as the International Reading Association Young Adult Choices list (Breathing Underwater, Nothing to Lose, and Fade to Black). Flinn's books seem to appeal to teens who might otherwise prefer not to read, which is the charge of the Quick Picks for Reluctant Young Adult Readers list. Her books have also been nominated for numerous state awards. Breathing Underwater won the Maryland Black-Eyed Susan Award in 2004. Beastly is nominated for the 2009 Lone Star State (Texas) Award.  (Wikipedia entry: Alex Flinn.)
(Alex Flinn author Portrait by J.A. Cabrera.)

2.  Cynthia Leitich Smith, May 2009
I am happy to report that Cyn (who owns an award-winning author site and blogs at Cynsations) agreed to let me interview her to go along with the posting of her new book, ETERNAL, on my site under "Good Books to Share."
I enjoyed reading ETERNAL. The pace is swift, and the set-up interesting from the get-go. Miranda, the teenage heroine, has a guardian angel. He messes up and she is turned into a vampire. Now her angel has to make amends. But is he committing the ultimate no-no for guardian angels? Is he falling in love with her? ETERNAL kept me turning the pages through a single sitting. For anyone who likes a good love story, as well as for fans of vampire tales.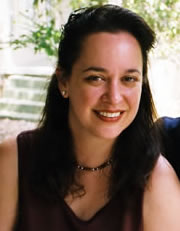 How old were you when you first started seriously writing?
I guess it depends on what you call "serious." By fourth grade, I was writing poems in my bedroom more evenings than not. I even "bound" them in a homemade book with the help of my mom. By junior high, I was editor of the school paper-a position I had again in high school. By my sophomore year of college, I was spending my summers working in newsrooms. By my third year of law school, I was teaching legal writing. At 28, I quit my "day job" to write fiction for young people.
How many rejections did you get before you got your first acceptance?
I honestly don't know, but with regard to writing for young readers, my apprenticeship was about two-and-a-half years before my first sale.
How do you make up names for your characters?
With JINGLE DANCER (Morrow, 2000), most of the names are family names. The one exception is "Jenna," which I simply thought sounded musical with jingle. Quincie P. Morris in TANTALIZE (Candlewick, 2007) is named after Quincey P. Morris in Abraham Stoker's classic novel Dracula (1897). But beyond that, I often look for variety in terms of syllables, vowel and consonant sounds, first letters, etc. or meanings. The name "Miranda" from ETERNAL (Candlewick, 2009) means "miracle."
When you write do you like quiet, music, or lots of activity around you?
Increasingly, I prefer sort of neutral music-no lyrics, which I generally tune out. It works like "white noise."
What's the earliest childhood memory you can think back to? Does it appear in any of your writing?
I remember burning the silver plate off a gold spoon with a candle flame. I think everyone else was eating pie in the kitchen. And no, not so far.
What age child do you have in your head? Is there more than one child there?
It's very crowded-I have a four, ten, fourteen, seventeen, and a nineteen-year-old.
Do you have any regrets about writing for young readers?
Nope.
What do you have hidden in a dresser drawer? (We won't tell, will we, everyone?)
Nothing too interesting, I'm afraid. My iPod and the key to my treadmill.
What do your favorite pair of socks look like?
They feature tiny Texas flags.
Given that you won't sunburn, and you have lots of water . . . would you rather walk through Death Valley or Mall of America? Why?
Death Valley-scenery and peacefulness.
If you woke up in the morning and found someone's shoes in your refrigerator, what would you think?
That the cats were growing more sophisticated by the hour.
Have you ever been abducted by aliens? If so, did they wear socks? What did they have hidden in their zormorpholater? And did they tell you the titles of any of their favorite books?
No aliens, faeries perhaps.
Will you name a character in your next book after me?
Maybe, but I can't promise he/she will be a good guy.
Finally, let's end up looking toward the future. What's up next for you? Anything you want to tell us about?
I just finished (I hope) text revisions on the graphic novel adaptation of TANTALIZE, which will be told from the point of view of Kieren, the werewolf hero. I'm also jazzed about the short stories I have coming out this year. "The Wrath of Dawn," co-authored by Greg Leitich Smith will appear in GEEKTASTIC: Stories from the Nerd Herd edited by Holly Black and Cecil Castellucci (Little, Brown, 2009) and "Cat Calls" will appear in SIDESHOW: Ten Original Tales of Freaks, Illusionists, and Other Matters Odd and Magic, edited by Deborah Noyes (Candlewick, 2009).
Thanks, Cyn!
Now to all of you . . . go forth, and read!
Ciao!