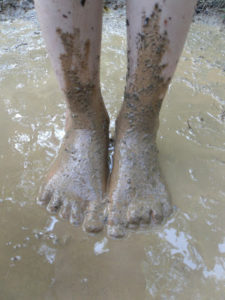 I lay down my copy of Discover magazine, go outside and I kick off my lime green Crocs. I'm not tiptoeing through the tulips, but flat footing it into my weed-choked gardens. My feet break through the pale, sun-warmed upper crust to sink into the moist lower layers. No wonder dirt is good for you—it's the color of dark chocolate.
I've always known that most of my gardening friends are "laid-back." I never knew the reason why until today. Discover magazine reports that according to a new study a harmless soil bacterium, Mycobacterium vaccae (M. vaccae), causes serotonin to be released in the brain. The study ("Identification of an Immune-Responsive Mesolimbocortical Serotonergic System: Potential Role in Regulation of Emotional Behavior," by Christopher Lowry et al. Originally published in Neuroscience.) indicates that inhaling M. vaccae while working in the garden, or walking, can create a better mood and lighten depression much the way Prozac does.
This makes me, as a children's writer, think back to making mud pies with my friends and siblings. Was it M. vaccae working on our brains that made those times so memorable and fun? I loved mixing up the dirt and water in a metal washtub we had. Then reaching into the cool mixture, we'd grab handfuls. And Oh! How satisfying it was—the feel of slapping a patty of soft mud from hand to hand, shaping it in the small curve of a palm—cool, rounded, perfect mud. Then we'd slam it down—splat!—on top of our makeshift kitchen counter (two boards over a stone barbecue pit Dad had built in the backyard).
It wasn't easy to get them perfectly shaped. Often you had to add just a pinch or two more dirt to get the right consistency to hold the burger-shaped patties together. Sometimes we'd decorate with sprigs of grass, a flower, or something plucked from Mom's garden.
We never made any money selling our mud pies, or our tree seeds (locust pods), or lemonade, for that matter. It wasn't for trying. We would hold up signs and wave at the cars that went by our cardboard box-and-plank storefronts. Mostly what we collected were honks from the neighbors, and smiles as others waved back at us.
When the weather was really hot, we'd simply step into the cool mud in the washtub and began squishing it up through our toes. It was divine. (And not unlike the joy I felt many years later stomping grapes when my husband and I made our own wine.)
Much of the mud stayed between our toes, despite my mother's earnest attempts at scrubbing us until we shined. There were four of us. And the minute she finished bathing one and started on another, the clean one would run outside in pajamas to jump about barefoot under the evening sky. Somehow, we always managed to go to bed with dirty toes.
It didn't kill us. In fact, my siblings and I have been extraordinarily healthy. So today, as I bend to weed around my plants, I am again barefoot. I breathe in deeply, trying to get a big dose of M. vaccae. My feet have sunk in the cool earth; the dark, rich dirt has squeezed up through my toes. I am happy.
(Photo of feet c/o sarah-sunshinedaydream.blogspot.com)
Be happy, go outside!
Shutta