(Dad, Uncle James L., Uncle Junior)
Father's Cupboard
My father's cupboard—built by hand
held baby food jars and Prince Albert Tobacco cans
full of nails or screws.
And always, oily boxes with torn labels
too heavy for me to tip and peek into.
These were the secret things my father used
to hold the world together.


Committed these past fifty years to the basement,
bracing the house I grew up in,
it was once Mom's kitchen cupboard.
Dad painted it smiling-teeth white and Kool-aid red.
It sat near-to-bursting in the kitchen
until banished in favor of Danish modern throughout.


This morning in the basement,
jacking up the kitchen floor above,
it takes four of us to extract the cupboard
from the embrace of floor joists.
For the house is sagging now,
despite the stoic Danes, despite Dad.


I brush away cobwebs, check all its porcelain knobs.
It is dripped with spilled paint—pink on the red.
Perhaps the pink he used making my own
small table and chairs?  Or the pink
of my sister's dollhouse—almost forgotten.
And sky blue.  Perhaps a birdhouse,
or a project of my brother's?  Maybe it is the blue
of the metal chair that sat in the yard
idly reflecting on the sky while I attended school,
met boys, and fell in love.


My father's cupboard is scarred and anointed with color.
Until the very end we left it to its labors, and only now
wrest it from the grieving house.
©Shutta Crum 2005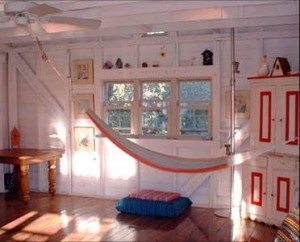 Dad's cupboard. I still have it.
And here's A POEM FOR MY MOTHER
Enjoy!
Shutta