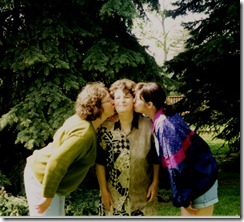 My sister and I giving Mom a big kiss . . . miss her!
My Mother Taught Me to Quilt
(for Evelyn Crum, master quilter, 1933-2008)
My mother taught me to quilt—
how to measure width and length,
how to find shades of a rainy day,
or the hue of a child's trust.
I watched as she patched each day's pieces
into a kaleidoscopic whole.
And she always saved the scraps.
She taught me to ease dissonance
into harmonies of pattern, and to blind stitch.
She tugged, and I saw that the straight grain was strong.
But she said I must learn to work with bias,
for there are days when fabric needs to stretch.
I studied how she smoothed the layers—
how she rocked her needle, hand-stitching
it all to a strong back. And finally,
how she held me bundled in her patchwork.
Now, on rainy days
I walk out into the wet grass and collect
my colors–the impatient greens, the heart-deep browns,
the glistening grays, and the fresh-washed blue of a forget-me-not.
I measure. I cut. I rock my needle.
I bind my raw edges.
Shutta, revised 2013 (First published;  AACR2, 2010)