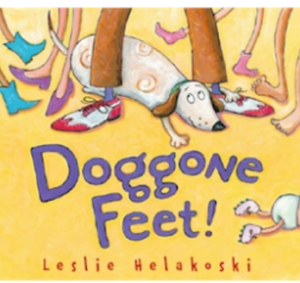 I'm happy dancing with "doggone" abandon for a good friend–and a great writer–Leslie Helakoski. Her latest book DOGGONE FEET! (Boyds Mills Press, 2013)  has made its appearance this month. DOGGONE FEET! is not only written by Leslie, but also illustrated by her. It narrates the tale of a growing family from the point of view of the family dog, whose domain is under the table at mealtimes. The perspective of the art is fun with dancy lines, deep pastels and all the messiness of a loving and happy family. For any family who ever loved a dog . . .
Now . . . enjoy this interview with Leslie. And don't forget to get a look at the book trailer here (or below), or to read Leslie's post on making the trailer which is posted at Darcy Pattison's site, Fiction Notes.
Enjoy . . . Doggone it!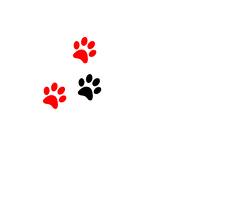 Shutta

1.    I love the family portrayed in DOGGONE FEET! And I really enjoyed getting the dog's perspective on the world. Is this book at all autobiographical? Of course! I grew up with dogs and cats under our family table along with a raccoon or two. But this story comes mostly from my current family dog who especially liked sitting under the chairs belonging to my kids when they were young eaters.
2.    You are also an illustrator (FAIR COW, 2010). I'm curious . . . do you submit your manuscripts as text only, or  also with a dummy? And then, how does the decision get made to have you, or someone else, illustrate?
I submit text with an illlustration or two if I want to illustrate. (Dummies are a ton of work and since the AD usually wants to have input anyway, could mean starting over from scratch once she's on board.) My agent usually asks the editor to consider me as artist so that it is not an all or nothing proposal. If an editor likes the mss. but not the art (which has happened many times) then she will suggest we go with someone else for the art. I've tried to change the editor's mind in some cases but usually go along with what she suggests. In the case of Fair Cow, an editor I was working with did not want me to illustrate. I felt I was capable of doing a good job with it and ended up going with a smaller press that would allow me to illustrate.
3.     Since you're a visual artist . . . when you get an idea for a book does it come first to your mind in pictures or in text/dialogue?  Which way do you start? With sketches? Or with words? When I get a good idea that I think will work as a book, it usually comes with a visual. That is part of how I know it is a good idea. But I don't sketch right away. I always write first–finding a way to say what I want with words can take awhile. I like to write with that visual image in mind to guide me. For Fair Cow, I had an visual with a cow sitting under an aqua hair dryer in my head. For Doggone Feet! I imagined sitting on the floor under a table and looking at all the legs and feet.
4.     Have you ever written a book that right from the beginning you knew should be illustrated by someone else?  Right from the beginning, I thought that I would NOT illustrate Doggone Feet! I was thinking that illustrating it would entail lots of proper perspective and that it would take me many long painful hours to get just right. It would not have been  fun. So my agent sent the text out without any art. We got back several responses from editors saying they thought this would be difficult to illustrate and that it would be limiting visually. I didn't agree, I could imagine how it would look–I just didn't want to create the art. I was complaining about this with a couple of illustrator friends and they encouraged me to do it myself and reminded me that the perspective could be wonky. That freed me up and as soon as
we submitted the text with a couple of pieces of art, it was picked up.
5.    For you, what's the best part of being an author? An illustrator?  My favorite part of writing is when a vague story idea merges with a fun way to put down the words. That excitement will keep me working many hours tweaking to get the words just right. My favorite part of illustrating is when I find an original way to show something and the design works on the page. My favorite part of creating a book is when a child responds to the story. Priceless!
6.     Now for the really important (fun) questions:  What's the most unusual thing you've ever found under a table?  My 6 year-old daughter cutting her hair.
7.     Suppose you wake early and upon opening your refrigerator discover a very tiny pair of shoes within. What would be your thoughts? I have actually found tiny shoes in the fridge before. They belonged to the doll lounging on a cabbage leaf.