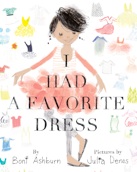 As my 4th random act of publicity this week I am shouting out about Michigan author Boni Ashburn's I HAD A FAVORITE DRESS. (Illustrated by Julia Denos. Published by Abrams Books.) What a fun and beautiful book for any little girl!
This is a fresh retelling of the old Jewish tale of "The Tailor," in which a favorite article of clothing (or a blanket) wears out. It keeps getting remade into something smaller that is loved until that, in turn, wears out. And WHAT a GREAT reworking of that pattern this is! Most little girls have a favorite dress, something in which they feel special. Mine was a green and white checked dress that I could twirl around in as it spun out about me.
Boni's book is perfectly matched by the airy washes and whimsical sketches of Julia Denos. A wonderful pairing—a beautiful book. Go out and buy it—especially if you have a young daughter!
Enjoy!
Shutta